According to statistics, since March 2021, a total of nearly 40 EV products of 20 brands increased their price, ranging from 2,000 Yuan to 30,000 Yuan. Main reason of this EV price rise is the cost rise in raw material .Chinese EV market has not been affected by this price increases, EV demand even had risen slightly. But capital reshuffle  in EV industry caused by the price increase is unavoidable.
Key points
A string of EV companies in China, from Tesla to BYD, have been forced to raise prices due to soaring raw material costs .
Analysts say some low-cost, smaller companies could struggle and even be forced to cut models from their product offerings.
Analysts say Tesla and BYD are better able to live through price rising  because of their strong supply chains.Many EV companies operating in China have been forced to raise prices due to soaring raw material costs .
01 Soaring raw material cost
Gasoline prices are soaring around the world amid a global energy crisis caused by the conflict between Russia and Ukraine, while crude oil prices have hit a record high over $100.China's gasoline also successfully raised from the "7" into the "9" era.Just when we thought there may be explosive growth in EV market due to the rise in oil prices, many brands have officially announced the price increase of their EV products.
Since the second half of 2020, the semiconductor supply crisis has intensified due to the combination of epidemic and natural disasters.Although the market of EV in 2021 is rising steadily, it has maintained a good momentum of development,  the imbalance between supply and demand of some raw materials, tight supply, and rising prices have brought great pressure to power battery enterprises.From the upstream nickel, cobalt, lithium and other resources, to lithium hydroxide, lithium carbonate, lithium hexafluorophosphate, PVDF, VC and other key raw materials, prices have risen, some auxiliary materials price is several times compared with the beginning of last year.
The sudden outbreak of conflict between Russia and Ukraine makes EV manufacturing industry raw material scarce crisis worse. According to Trend Force's latest report, Nickel is a key upstream raw material for EV power battery manufacturing, which is mainly used in the manufacturing of ternary cathode materials. In 2021, global Nickel  production will be about 2.7 million metal tons, mainly from Indonesia, the Philippines and Russia. Russia accounts for about 9% of the world's Nickel production (including low -, medium – and high-grade nickel), ranking as the third .EV market penetration is now in the accelerating stage, and the ternary power battery accounted for nearly half of the market share, which means that the vehicle power battery demand of upstream raw materials for Nickel will booming , despite Russia's current export of Nickel is not affected, but if the relationship between Russia and Ukraine continued to deteriorate, it may affect the world nickel supply, push up prices rise in short term .And further pull up the cost pressure on terminal products such as EV.
The price of Lithium carbonate has risen nearly 70 percent in the past two months or so to $494,500 a ton, increased more than 400 % from a year ago, according to Benchmark Mineral Intelligence.The price of nickel, another key material, has risen sharply and fluctuated wildly. Aoyama's "magic nickel incident" has made battery manufacturers shudder.
The lack of capacity in the field of power battery raw materials and the rising price of materials are the main reasons for the rise of EV .EV companies have been forced to raise prices as carmakers grapple with soaring raw material costs for components such as batteries and a continuing shortage of semiconductors affecting the global car market.
02  Subsidies for EV will be withdrawn
On December 31, 2021, the Ministry of Finance, the Ministry of Industry and Information Technology, the Ministry of Science and Technology and the National Development and Reform Commission jointly issued the Notice on Fiscal Subsidy Policies for the Promotion and Application of New energy Vehicles in 2022, making clear provisions on new energy subsidies in 2022.
Subsidies for EV  in 2022 will be reduced by 30 % from 2021.There is no subsidy for pure electric passenger cars with a range of less than 300 km, and the subsidy for pure electric passenger cars with a range of 300-400 km (including 300 km) will be reduced to 9,100 Yuan; Subsidy for pure electric passenger vehicles with a range of 400 kilometers or more were reduced to 12,600 Yuan. The subsidy for plug-in hybrid models has been reduced to 4,800 Yuan.
In addition, after December 31, 2022 there will no subsidy for EV, equivalent to saying that the withdrawal time of EV subsidies is 2023, when the purchase of EV will no longer have national subsidies.
Not only EV for private use, but also vehicles that meet the requirements in urban public transport, road passenger transport, rental (including online car hailing), sanitation, urban logistics and distribution, postal express delivery, civil aviation airports and party and government departments' official business will be subsidized by a reduction of 20 % from 2021.
Since this rebate has been mentioned in the earlier notices, all major auto brands have prepared for the retreat policy, which basically includes four countermeasures.The first is to transfer the amount of subsidy into the price;The second is to take into account factors such as the rising cost of raw materials and increase the price higher than the amount of subsidy retrograde; the third is to adjust the price of major optional configurations; the fourth is to fine-tune the quality assurance part.
In the face of strong downstream demand, the normal impact of subsidy regression on the overall market of EV is limited, and the future of EV market still shows progress in stability.Although Tesla and Xiaopeng took measures such as price increase and make up price difference after the subsidy withdrawal, selling price fluctuated in short-term, but as the scale effect of EV gradually emerged, the long-term terminal price is expected to remain stable.
The current price changes will not have a long-term global impact, but to a certain extent, they will force EV companies to improve quality, exploit potential, increase efficiency, and constantly improve the market competitiveness of products.
03 Demand remains strong
So far, demand for EV remains strong.In the first two months of this year, EV sales in China rose 153.2 $ year-on-year, according to the China Passenger Car Association.
Companies such as Tesla and Buffett-backed BYD, which have been able to cope with shortages of raw materials and the withdrawal of subsidies, have been working to build more secure supply chains.However, some lower-cost, smaller players may struggle and even be forced to cut back on the development of new models from their product offerings.
Chinese EV startup Xpeng has raised the price of its cars to between 10,100 Yuan ($1,587) and 20,000 Yuan. Tesla has raised prices on its products in China several times in the past two weeks. BYD and WM Motors also raised prices.
Even so, SAIC-GM-Wuling, a joint venture between GM and state-owned carmaker SAIC, has raised prices on its products. Wuling, despite producing lower-cost vehicles, is China's second-largest maker of EV.
Although the impact of the price increase on demand is limited at present, many consumers have already bought in advance to lock in the discount, and there is a certain psychological expectation of the future price increase of vehicles. The new energy vehicle market has shifted from policy-driven to market-driven.Most buyers who have already decided to buy an EV are likely to accept the high price, or opt for a lower-tier model or another brand to fit their budget.
But carmakers will still worry about their ability to pass on extra costs to consumers, especially those without strong brands or operating at the lower end of the market.
'Mid-tier and entry-level brands may face some challenges in passing on cost increases to the market,' said Bill Russo, CEO of Automobility Limited, based in Shanghai.So they will either accept lower margins or have to cut some products.".
04 Reshuffle of EV products
Ora, an EV brand owned by China's Great Wall Motor, has stopped taking orders for two of its models.The company said they lost 10,000 Yuan ($1,569) on each of its Black Cat cars due to rising raw material costs.
"Expect some form of adjustment that will take out some of the weaker mid-entry priced products," Russo said"As long as the material supply chain negatively impacts the material economics of a product, you can expect some companies to withdraw from the market.""As the industry consolidates around better EV companies, fewer, stronger players should be the ultimate goal here."
BYD and Tesla are the two  best positioned player right now, according to Russo, despite rising car prices.
This is partly due to their strong supply chain of batteries and other components.BYD, for example, makes its own batteries.Tesla has set up a Gigafactory in Shanghai to serve the Chinese market and has a close relationship with battery supplier CATL.
"Even if the price is higher, they (BYD) are still in a position where they can be more isolated because of their vertical integration," Russo said.Tesla also has more ability to transfer prices to the market.".
Large car companies such as Tesla, BYD and Volkswagen have moved rapidly to electric vehicles and have established reliable supply chains to help deal with any bottlenecks and price increases.".
05 The future of new energy is still promising
It is rare for China, Europe and the United States to reach such a consensus on EV industry
EV sales in China reached 3.521 million units in 2021, up 1.6 times year-on-year, according to MIIT data. And the momentum of this "rocket" growth has not waned at all. According to the China Automobile Association, EV sales reached 765,000 units in January-February this year, up 1.5 times from the same period last year.Relevant institutions forecast that in 2022, the number of EV in China will reach more than 5.5 million, an increase of more than 70% year-on-year, and the penetration rate of new energy will reach 22.1%.By 2025, the domestic sales of EV will exceed 10 million, and the penetration rate of EV will exceed 40%.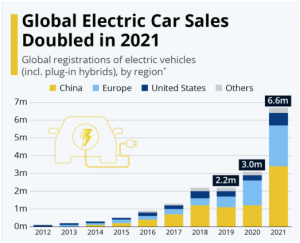 In 2021, more than 6 million EV were sold globally, with more than one-third sold in the European market.
Meanwhile, although the new energy strategy in Europe started more slowly than that in China, the momentum of catch-up is very fierce. In 2021, the sales volume of EV in Europe reached 2,142,000 units, up 68.7% year on year, and the penetration rate of EV in the eight major CR8 countries reached 21%, higher than that in China. It is expected that by 2025, Sales of EV in Europe will reach 5.915 million units.
The more surprising thing is that the United States, with the exception of Tesla, has long been mocked as "Big American V8, better than EV," but after President Biden took office, he has also started to shift to EV, promoting his $174 billion EV plan in Ford's electric pickup truck factory.In 2021, Biden proposed spending $174 billion to EV development , including $100 billion in subsidies and up to $12,500 for locally produced vehicles.
In this context, the sales of EV in the United States in 2021 will reach 652,000 units, with a year-on-year growth of up to 101.2%. And it is expected that the sales of EV in the United States in 2022 will maintain rapid growth. The agency predicts that the sales of EV in the United States in 2022 will reach 1.4 million units, with a year-on-year growth of 114.7%. Sales of EV  are expected to reach 5.62 million units in 2025, nearly nine times the figure in 2021.
China, the United States and Europe, the world's three largest markets, almost at the same time to fully develop EV industry, under the "resonance" of the three markets, the agency predicts that the global sales of EV  will exceed 10 million in 2022, an increase of 64% on the basis of 2021.